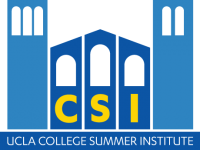 UCLA's College Summer Institute (CSI) is an excellent way for incoming first year students to make a smooth and successful transition into UCLA. For seven weeks before Fall Quarter, CSI students will take courses that satisfy several University requirements.
CSI students can choose from many of UCLA's most high-demand courses offered in much smaller class settings than during the regular school year, with the added benefit of making friends, study groups and starting to adjust to university life. Classes are comprised of new students so making connections is easier, along with the support of UCLA New Student Advisors who will be available every day to connect and answer questions.
CSI includes your New Student Orientation session (session 105). If you register for CSI, you will automatically be enrolled in session 105. If you have any questions about the College Summer Institute, please contact our office at (310) 206-6685, or email us through the MyUCLA Message Center (with UCLA login or without UCLA login).